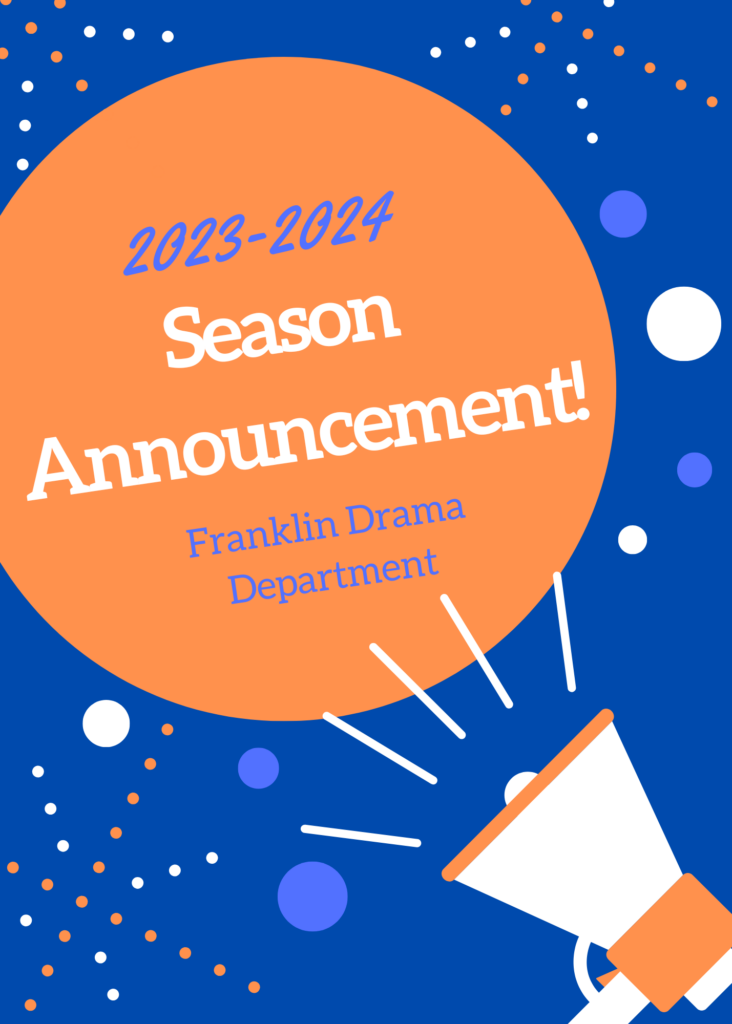 Information Franklin Drama for this year!
FRANKLIN DRAMA CLUB
2023-2024
Welcome Back! Whether your student is new to Franklin
or returning, the drama department is glad you are here.
Director: Ms. Williams
Personal Email: chwilliams@crschools.us
Drama Email: franklindramaclub@gmail.com
What is drama club?
Drama club is an extracurricular activity designed to engage students in
all aspects of the theatre. We have a fall musical, spring play, and a new
addition called Monologue Madness! We will also tap into the technical
side of drama with backstage crew, lights, props, costumes and more…
What will this year look like?
We have an exciting year planned! This year we will have:

Two Productions
● Fall Musical – "Mean Girls"  Auditions are August 28th and 29th, Musical will be November 9th and 10th at 7:00 PM
● Spring Play – "Dorothy Meets Alice, The Wizard of Wonderland"  Dates are April 11th and 12th at 7:00 PM

Theatre Instructionals
● We will go over theatre safety, lights, costumes and more!
Drama Club Rules
We strive to create a space that is safe, fun, and educational. It
is important to treat each other fairly and with respect. Positive
vibes all around!

EXPECTATIONS OF BEHAVIOR
1. Bring a book or something quiet to do while waiting for your scene to
start.
2. NO cell phones- same as the school policy on phones.
3. Do NOT leave the theatre space without permission.
4. BRING YOUR SCRIPT AND A SHARP PENCIL TO EVERY REHEARSAL.
5. Leave the theatre space neat and clean!
6. Do not disrupt the rehearsal process.
IMPORTANT THINGS TO DO WHEN YOU ARE IN A PLAY
1. YOU MUST MAKE REHEARSALS A PRIORITY. LET US KNOW OF
CONFLICTS.
2. COME TO REHEARSAL ON TIME.
3. KNOW WHEN YOU ARE SCHEDULED FOR REHEARSAL.
4. MEMORIZE YOUR LINES ON TIME FOR OFF-BOOK REHEARSALS.
5. CREATE A CHARACTER.
6. SPEAK LOUDLY WITH CONFIDENCE.
7. RESPECT OTHERS. DO YOUR JOB AND LET THEM DO THEIRS.
8. YOU MUST BE AT ALL RUN-THRUS, TECH/DRESS REHEARSALS
AND PERFORMANCES. PUT THESE DATES ON YOUR CALENDAR!
9. HAVE FUN, WORK HARD AND HAVE A GOOD ATTITUDE.
Your contact/volunteer info will help us keep you updated on
schedules and needs for the production. You can also visit
our page on the school website for information. Thanks so
much for your support of excellence in the fine arts at
Franklin Middle School. Drama club will be great fun and a
wonderful learning experience for your student.
Contact us with any questions at franklindramaclub@gmail.com
---
KEY CONTACTS